Pest control near you
From bedbugs to furry marauders. Let a trained professional handle your pest control needs. Don't expose yourself to hazardous chemicals or get yourself injured. Our pest management solutions keep you, your loved ones and the environment safe. We get rid of many different pests and we'll get rid of yours too.
Having pest control near you or at your disposal is an important part of home ownership. Every home ages and, in some cases, pest activity is a major contributor. Together we can stop pests in their tracks and help preserve your investment.
Pest control near you. Live somewhere on this map? We offer services to you.
Call, text or fill out the free quote here to reach out and let us take care of you.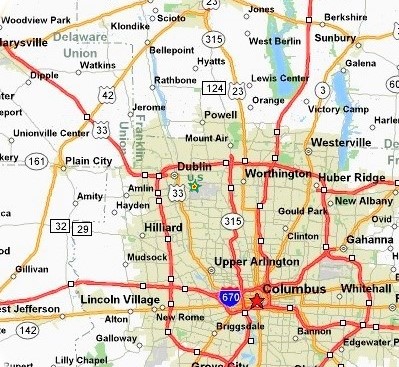 Who we are and what we do.
Pest Suppress is a locally owned pest control company in Dublin, Ohio. We provide pest control service for all of Franklin County and it's surrounding areas. Pest Suppress is insured and licensed with the state of Ohio. Our service technicians are licensed with the Ohio Department of Agriculture and The Ohio Department of Natural Resources. We specialize in wildlife removal, insect extermination, exterior preventative service, exclusion work to keep pests out, attic restoration and home repair due to wildlife damage. While some pests can be controlled with simple habitat alterations, others require more aggressive measures. When necessary, we use pesticides and rodenticides registered with the EPA that have a signal word no higher than "caution". This helps protect you and your loved ones from dangerous chemicals. I wouldn't use "Danger" word chemicals around my home so we don't use them around yours. Unlike some companies, we won't put your pest control needs in a one size fits all box. From squirrels in the attic to yellowjackets underground, every situation is unique. For us, it's about problem solving and being genuinely invested in the outcome. Our business model is safely get rid of pests and create happy customers. Pest Suppress thrives on making bad situations better.